Scuba Diving Ideas and Suggestions in Hawaii
Diving in Hawaii
Not only is Oahu Diving a great little company to go diving with. We are always thinking of you and would love to be there with you to help out for those special occasions. We have great ideas for any of your occasions. We can do great celebrations for birthdays, marriage proposals, sports celebrations, special events and just about anything you can imagine. Call us anytime to discuss your ideas or suggestions.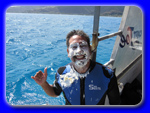 Underwater Birthday, Birthday Celebrations
What better way to celebrate your birthday. Underwater, scuba diving in Oahu with turtles ! We got some crazy ideas for any birthday occasions. Make sure you consult with us so we can get you started. Surprise birthday are the best on our dive trips.
Get Married On Our Dive Boat
Getting married on our boat is exciting NOT to mention the fact that the scenery from a mile out from shore is unmistakably the best. Allow us to help you plan your big day out on the boat. Many ideas to go over, call us.
Marriage Proposal
This is the most requested special we having at Oahu Diving. We get this all the time. People love getting proposed underwater. This is an exciting event for all. If you want to get a cool marriage proposal going on we can help make this an exciting event for you. We can help you plan out a marriage proposal on the boat or underwater, with turtles sharks or whatever. If you want however to have the whole boat to your group this will be a little extra. But look at it this way, our boats are not crowded to begin with so having a few other people on the boat isn't a big deal.
Underwater Video Production
Underwater video productions does not have to be an expensive ordeal. Oahu Diving has done many video productions, video assisting and production. Assisting in TV shows, local news reports and commercials. We know that the "pros" who never scuba dive will charge you an arm and a leg to get the video or pictures you want for scuba diving- Don't settle for this, call us. We understand diving, we are seasoned professionals who know how to hold a camera. Click here for more details
General Greetings and Salutations Celebratory Signs
Would you like to go scuba diving and hold a special sign underwater such as, "Berkley Class of 2011 ?" or maybe "I love you ____" or maybe your company logo? Yes at Oahu Diving we can make the signs for underwater events in any size for any occasion. When was the last time you sent your mother a Mother's Day greeting from underwater ? What about holding a sign next to a turtle saying "I love you mom?" Call us, we would love to shot some ideas back and forth with you.
Funerals and Ash Spreading in Hawaii
Thanks for visiting Oahu Diving of Hawaii. Your beginner scuba diving specialists, diving boat charters and scuba courses in Honolulu, Hawaii.
Scuba Diving Ideas
Try proposing underwater
What about celebrating a wedding anniversary ?
Birthday celebrations- always a fun one
What about divorces ? We'll even supply extras lead weight...
Free Digital Pictures. Just click on the below pictures to get a good idea of what kind of pictures you will get if you go with Oahu Diving. We scaled these monster pictures down to 800x450 for the website. You will be getting beautiful 4000x2248 or 12megapixel gorgeous photos that are very pleasing to the eye and not "watered" down like others.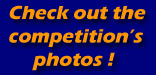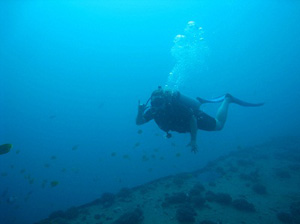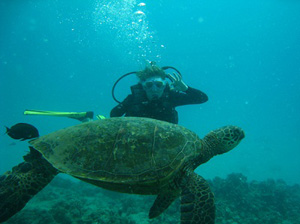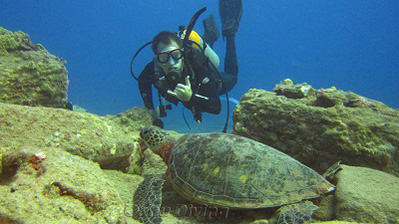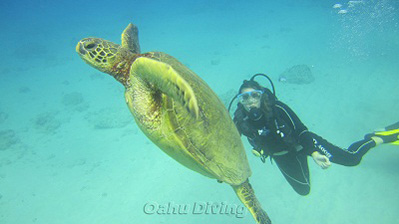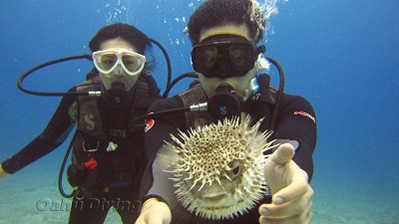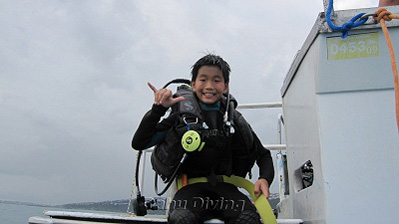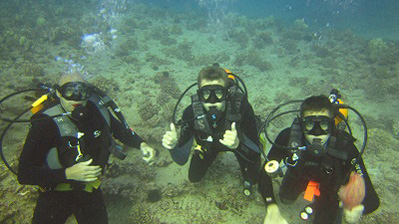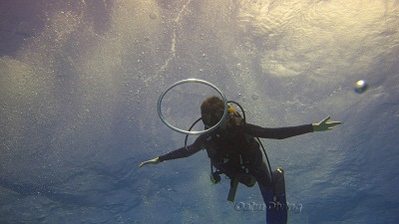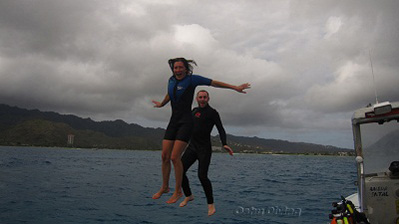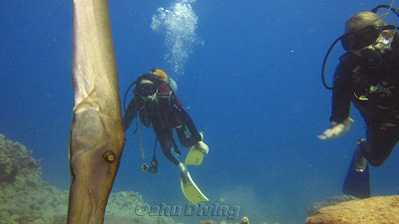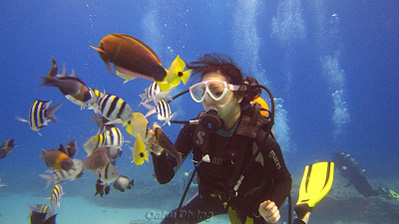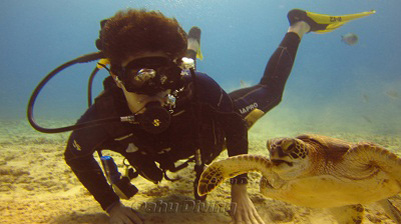 Prices includes;
First class personalized scuba instruction
Two dives at two different locations
Scuba gear included, no rental equipment whatsoever
Free digital high resolution pictures
Drinks on board
and a whole lotta fun
---
Scuba Diving Courses in Hawaii
Since we value our customers and want them to have the best time of their lives with us, we would like to mention some information on sea sickness and how to not get it. This is a pretty cool detailed new page we made up on various methods of preventing sea sickness.