First Time Diver Program- Beginner Scuba Diving Hawaii - Introductory Diving- No License Required Diving.
Discover Dive Oahu with Oahu Diving's First Time Diver Program- Waikiki Scuba.
MUST KNOW HOW TO SWIM- NO EXCEPTIONS
Have you ever wanted to try scuba diving in Oahu at one of the amazing Oahu dive sites, but never quite found the time to get the proper training? That's not a problem with Oahu Diving! Our staff of qualified dive instructors who regularly scuba dive Honolulu can get you in the water and scuba diving with the turtles in no time at all here in Honolulu, Hawaii- Oahu. First time scuba diving Oahu should not be missed out. With Oahu's best reefs only 10-15 minutes away let Oahu Diving take you on the adventure of a lifetime. Oahu scuba doesn't have to be for licensed divers in Hawaii.
We do 2 dives, not 1 scuba dive Oahu like our competitors do!
No experience necessary! That is right, beginner scuba diving in Waikiki customers like you do not need to go through months of Oahu diving courses to get a thrill of a lifetime diving with all kinds of cool underwater animals. Ever wonder what it is like to dive with the Hawaiian green sea turtles? What about dolphins? Ever seen a shark in Hawaii before? Wait even better, did you know Oahu has seals? No problem, diving you can see all of these incredible marine life and it is all completely safe. Scuba diving should be a must adventure for any person, even if they think they don't have time for scuba certifications. It truly is like traveling to space; the weightlessness and complete alien world will leave you wanting to scuba dive again and again. Trying scuba diving for the first time will definitely change your opinion in a positive way about the ocean and its inhabitants.
First Time Diver Program- $130- From 2:00-5:00 (times can vary)
...did we mention pictures of your dives are free?
How do we get started?

First, you must review the Dive Liability Release Questionnaire and Medical Questionnaire before proceeding!
Any "YES" on the Medical Questionnaire Form you must consult with a physician.
Scuba diving is a strenuous activity and NOT for everyone. You must be able to know how to handle yourself in water too deep to stand.
Age requirements is 13-55
Being in shape with good health is a must.
We do not teach swimming.
No alcohol before scuba diving.
Pregnancy and diving are prohibited.
Couples talk this tour over, if one doesn't want to participate do not push it. Peer pressured divers can be very dangerous to themselves and the tour.
You must wait 18 hours after your last scuba dive before flying in an airplane.
Participants with disabilities must contact us before hand.
Ear and/or sinus surgery and diving do not mix. If you had this kind of surgery please check with your doctor. We will not be held responsible for any sinus or ear injury.
Oahu Diving's First Time Diver tour will begin with a meet up at our boat from 2pm. There we will have introductions, fit for wetsuits and fins. Once everyone is good to go we will board the boat and begin our adventure with a thorough overview of the SCUBA gear and diving techniques. Touching on breathing methods, Valsava maneuvers and how to stay relaxed on the scuba dive. Simple skills such as;
*****ALL TRAINING IS PERFORMED ON THE BOAT- NOT IN A POOL*****
Regulator usage, recovery and clearing- This is what you will be using to breath underwater. We will teach you how use this regulator and to replace the regulator back into the mouth and properly clear it of water inside. If you have ever used a snorkel this is very easy.
Scuba mask clearing- Occasionally water does enter the mask. We will teach you how to clear the mask of water while diving. Pretty easy to do.
Relieving pressure on the ears or equalizing your ears- This will be down while descending down into the deeper water. As you know the deeper you go the more sea pressure there is. Doing so is as easy as pinching your nose and gently blowing out your nose at the same time. If you feel any pain you are not doing this correctly and should not try scuba diving. (We will not be held responsible for incorrectly performing this maneuver click here for details.)
Underwater swimming techniques- Way different than swimming on the surface of the water. Knowing how to swim is a requirement. However we will not be doing any surface swimming as we will be below the surface. Using fins we will be doing easy kicking to easily propel yourself underwater.
Useful hand signals- Underwater, sound travels very well however humans just can't pull off talking while scuba diving. Therefore we will use hand signals to communicate- very easy to learn and we will teach you these.
These and a few skills you will quickly master prior to going on your fun scuba dives. Our friendly qualified scuba Instructors will work at YOUR PACE- NOT OURS ! Once the on boat training is complete and scuba briefing is finished we will head to the water. Since we use a stable boat that is moored up to a buoy entry in the water is simple. There is always a line to use for our decent down to the reef. This means, an easy controlled and extremely safe way of diving. Great for equalizing your ears or performing what is known as "clearing your ears" or the technical term "The Valsalva Maneuver". Honestly, it shouldn't be done any other way. As we make our way slowly down the line we will stop at around 8 feet. This is a typical depth of a swimming pool. At this depth we will do our final checks until resuming to the reef bottom which are roughly 30 feet in depth. This is the most important step in making a scuba dive. Sort of the like the take off of an airplane. It really has to be done perfectly without any issues.
Once down on the reefs it is all about fun. You will be amazed at the cool marine life that lives in the waters just off the coast of Oahu. Fish such as butterfly fishes of all types, trigger fishes, octopuses, rays and turtles are commonly seen. (Ok, I know you are thinking about sharks right ? Well the good news is they have no interest in scuba divers usually preferring a quit area of the reef.)Also we get this question too."How long are the dives ?" This depends on the scuba diver in question. Usually females do better while scuba diving- air consumption. Average scuba dive times are roughly 30-40 minutes per dive. Again, each person will be different. Once underwater our SCUBA Instructors (all with over 5000 dives) will led you on the adventure of a lifetime making sure your dives are both safe and fun! Take a look at the type of reefs you will be diving on.(places and dive boats may vary due to weather and ocean conditions but this will for sure give you a great idea of what you will expect) What shows up on these scuba dives in Hawaii e have seen amazing marine life on these reefs. Obviously there are no fences that surround our Oahu dive sites; rays, turtles, reef fish, eels, sharks, and dolphins which are commonly seen in Oahu's may not show up at times.
As always there are inherent risks to scuba diving which can be potentially dangerous to your health. Sinus and ear problems can result from not performing proper equalization or Valsalva maneuver. Click here for more details. Sinus and ear injury can result if not done properly. Oahu Diving and instructor(s) will not be held responsible for any injury.
Spitting Caves | Koko Craters | Turtle Canyons Hawaii kai | Fantasy Reef | Anglers Fish Reef | Corner Pockets | Nautilus Reef | Kewalo Pipe | Buoy Reef | Horseshoe Reef
---
Frequently asked questions- first time scuba divers. Click here!
"Hey what is the scuba gear like?"Click here ! !
---
After these fun dives, you walk away from this experience with a whole new outlook on our oceans and marine life. What are you waiting for? Thanks for visiting Oahu Diving of Hawaii. Your beginner scuba diving specialists, diving boat charters and scuba courses in Honolulu, Hawaii.
First Time Diving Tour
Two dives at two different locations.
Each scuba dive lasts roughly 30-40 minutes
Diving depths are anywhere from 25-40 feet
Free digital picture
Beginner scuba diving tour from 2PM to 5PM
Free Digital Pictures. Just click on the below pictures to get a good idea of what kind of pictures you will get if you go with Oahu Diving. We scaled these monster pictures down to 800x450 for the website. You will be getting beautiful 4000x2248 or 12megapixel gorgeous photos that are very pleasing to the eye with vivid colors.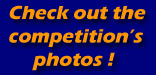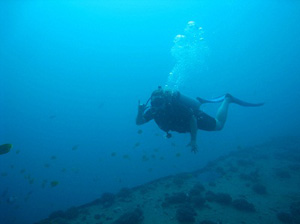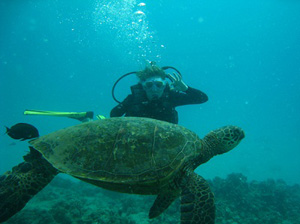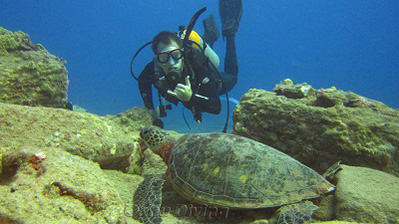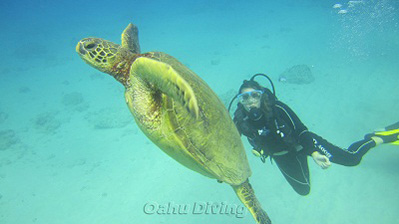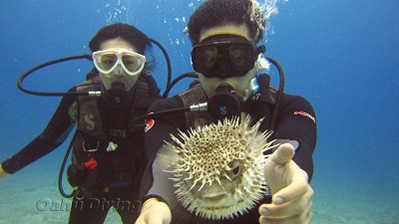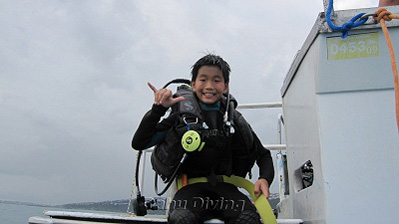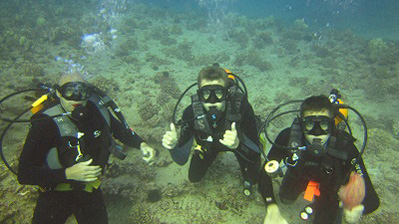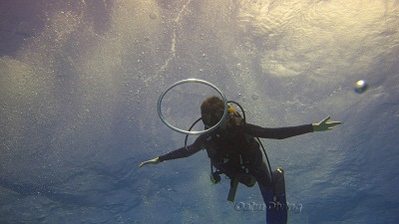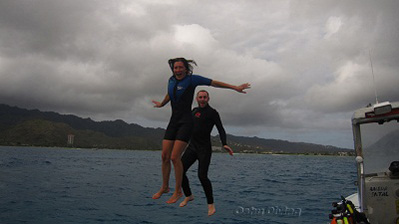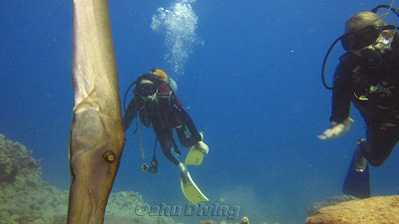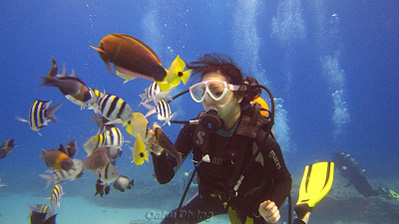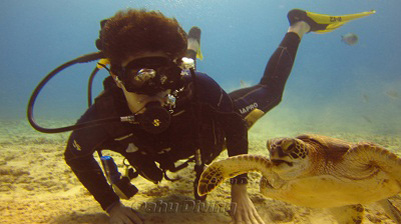 Prices includes;
First class personalized scuba instruction
Two dives at two different locations
Scuba gear included, no rental equipment whatsoever
Free digital high resolution pictures
and a whole lotta fun
---
Curious about how to get a scuba diving license ? Take a look at these course Oahu Diving offers.
Scuba Diving Courses in Hawaii
Since we value our customers and want them to have the best time of their lives with us, we would like to mention some information on sea sickness and how to not get it. This is a pretty cool detailed new page we made up on various methods of preventing sea sickness.
Common questions for first time divers