Scuba Diving in Oahu- Nautilus Reef
Scuba Diving Locations in Hawaii

Nautilus Reef is a cool little area fairly close to the Kewalo Boat Basin channel, about #### yards to the east. It's a great reef for both advanced divers and first time scuba divers alike. Furthermore if traveling by a boat for you seasickness sufferers this would be a great option for a nice boat dive without the long ride. The reef I looking from above is kind of shaped like a peanut. Flanked on both the east and west side of nautilus reef are two similarly shaped reefs as well. Nautilus reef is on top 30 to 40 feet. Closer northwest towards the shoreline it obviously gets shallower. However towards the south end of the reef the reef ends of and becomes a sparely rocky moon like landscape slowly sinking down to 100 feet deep. (Very slow sloping angle.)
The reef itself is an ancient lava field that is covered with hard corals. With two mooring access lines the south end of the reef has one line going directly to 40 feet- great for certified divers. The second mooring line is connected to the center part of the reef at about 30 feet making this a great entry point for divers who have a hard time clearing their ears and first time scuba divers in Hawaii who haven't experienced such great pressure changes.
Lots of fish and marine life make nautilus reef their home. The most abundant fish you will see right from the start are a dark colored triggerfish called black durgeons. These fish that look black actually having a greenish tan stripped face. These fish are always looking for handouts! Millet seed butterfly fish along with teardrop and raccoon butterfly fish are also easily seen brining beautful exotic colors to the reef. Underwater picture buffs will love these butterfly fish not to be outdone by the majestic moorish idol- the quintessential tropical fish. Amongst the hard corals and rock this reef does have a large population of sea urchins so watch your buoyancy- sea urchin spines penetrate wetsuits.
Cruising around the reef you may get lucky and spot white tip reef sharks resting underneath the lave overhangs resting for the night hunt. Those sharks come in all sizes ranging from 2 to 6 feet. Other sharks spotted at nautilus reef include tiger sharks and grey reef sharks. On the outskirts of the reef the area is occasionally visited by Hawaiian stingrays and the spotted eagle rays. The stingrays are bottom dwellers and rarely swim above 6 feet while the eagle rays are seen forging on the bottom and also right below the surface. Lucky dives on nautilus reef. We have personally seen, turtles (Not common to see here) monk seals, tiger sharks, dolphins and even humpback whales lingering around nautilus reef. This is not the everyday normal occurrence but it does happen. All in all nautilus reef should give you a nice 30-45 minute bottom time and is great for first time Oahu scuba diving or a follow up dive from doing the yo-257 shipwreck or the seatiger shipwreck since you will need to follow follow those dives up with a shallower dive. Visibility is usually quit well ranging from 50 to an impressive 100 feet. Have fun watch and that air gauge.
Thanks for visiting Oahu Diving of Hawaii. Hawaii scuba diving locations Nautilus reef, beginner scuba diving specialists, diving boat charters and scuba courses in Honolulu, Hawaii.
Here are other reef dives in Hawaii !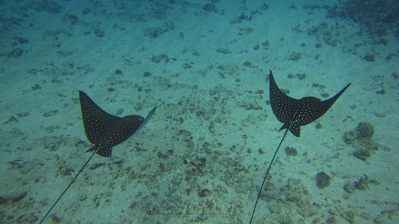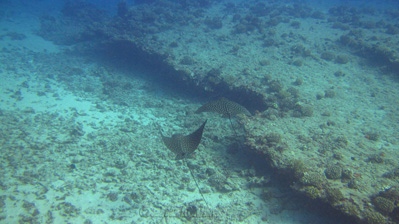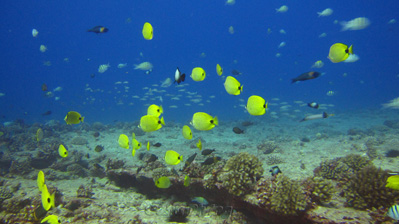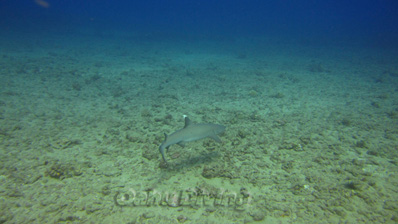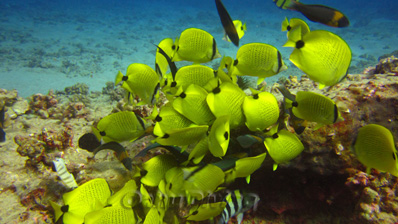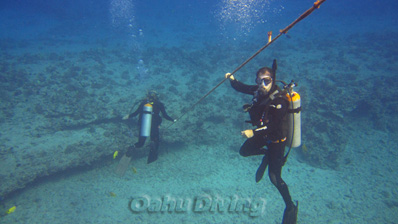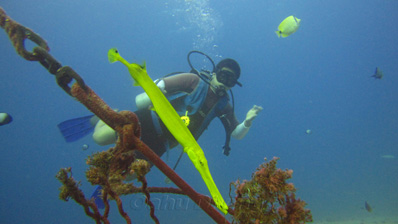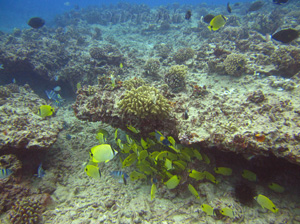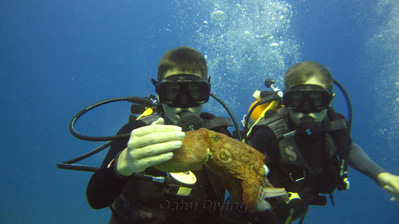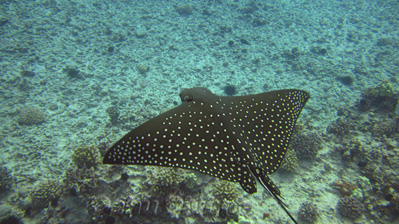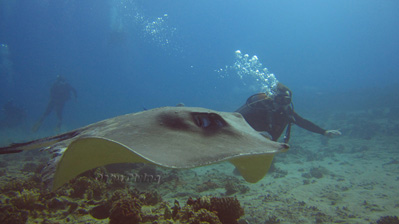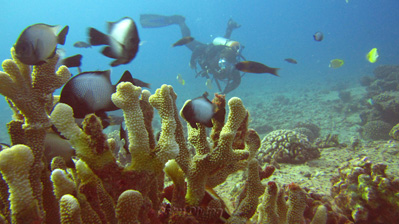 ---
Scuba Diving Courses in Hawaii