Scuba Diving in Oahu Turtle Canyons
Scuba Diving Locations in Hawaii

Turtle Canyons located in Oahu , Hawaii is a great scuba dive for both beginners or first time diving and novice divers alike. The reef is approximately 20 to 45 feet deep. The boat ride out to Turtle Canyons takes around 15 minutes depending on your boat and what harbor you depart out of. Turtle Canyons was formed thousands of years ago when volcanic activity was in action here on Oahu. Large lava/rock encrusted fingers point out from the shallow shores of Waikiki in a south eastern direction. In between these "fingers" are mostly small rock boulders , coral heads and sand. If you're really into colorful corals, this dive won't be for you. The area where this dive site is situated leaves no room for fragile corals and soft corals to flourish. Heavy swells roll in from the south east like blazing freight trains only to leave an area that almost resembles a whitish blue desert. So why the heck even bother? Well my friends, this dive is an incredible one if you want to view the Hawaiian green sea turtles in their natural habitat. We get divers with hundreds of dives who really "freak" out when they meet these calm spirited attitude laid back reptiles. You can literally swim right with these rare reptiles without a care in the world. I do want to mention that turtles are on the endangered species list so harassing or harming these beautiful creatures will leave you with a painful fine. So please give these cool marine creatures your utmost respect, after all you are in their "house."
Hawaii Fish life is surprisingly abundant in and around the canyons. Porcupine puffers can be found hiding in or under a small rock. Eels like the viper moray, slither in and out of the rocks along with snake eels. Underneath the lava over hangs you can find an occasional white tip reef shark taking a rest . Dolphins are sometimes are on patrol in these waters so it is most likely you will hear them emitting squeaks and clicks. However it was not like the movies. Spinner dolphins seldom swim around divers, if not, never. That is not saying you won't see them. Sometimes dolphins as much as 20 or more have been known to swim right past groups of divers surprising everyone. I've also seen them missile by in stealth mode without a sound and without anyone in my group catching a glimpse. Dolphins are extremely fast so don't hold your breath waiting for them.
Bottom times at TC can last from 30 - 50 minutes depending on your given profile. It is best to keep those times around 40-45 minutes. Currents that plague the south shore are not terribly strong here however you will feel swells sometimes moving you 5 feet in one direction then 3 feet in another. Most of the times this dive site is relatively calm. It amazes how one day can be like a swimming pool and the next day look like grandma's split pea soup. I do want to enlighten you on some of the dangerous that can make up Turtle Canyons. For one, this is a prime area for catamarans, boat tours and local canoe clubs. Making an impulsive ascent away from the boat could be extremely dangerous if not down right stupid. Boaters in Hawaii , especially the canoe racers don't understand the Rules of the Road and pay no attention to dive flags often piloting their canoes close to dive boats in order to "show off." After all most are just weekend warriors who work in an office. I have even seen Honolulu Ocean Safety drive their jet ski over diver bubbles without a care or worry

Watch your air. 1000 psi should be your target number for returning to the vicinity of the dive boat. One more time, avoid making your ascent away from the dive boat. Sea urchins can also be a problem for you. Many different kinds are found on this reef so watch your buoyancy ! And finally, eels . Keep your hands out of the holes and small caves. Eels will leave you with a huge medical bill if not a few missing digits ! Eels love this area so before you reach in to grab that pretty shell think twice. You might now be able to count to ten on your hand after that foolish move. All in all, Turtle Canyons is a great scuba dive Here in Hawaii. Again both advanced and beginner dives will love this dive. Be careful, big white tip reef sharks make this area their home. Once cleared to go you will be able to see the exit point as well. The top table area of this dive has beautiful hard corals and an abundance of sea life to go with it. Be nice , don't break any coral! 100 Foot Hole bottom times can vary. Most people like to dive this location after doing the YO-257 shipwreck. However doing this dive for the first dive of the day can also be a good idea. So bottom times can range from 20-30 minutes. Due to the location of this dive it is not uncommon to have tiger sharks cruising around. White tip reef sharks and other reef fish make their home here so the tigers love to snack on these guys. Divers are not on the list of delicacies for tiger sharks so I really wouldn't worry about it.
Thanks for visiting Oahu Diving of Hawaii. Your beginner scuba diving specialists, diving boat charters and scuba courses in Honolulu, Hawaii.
Here are other reef dives in Hawaii !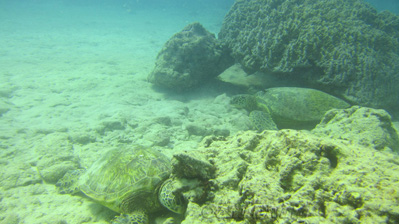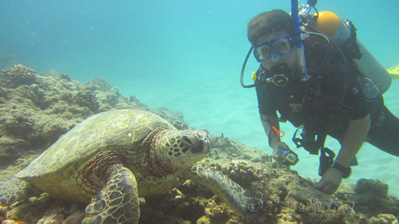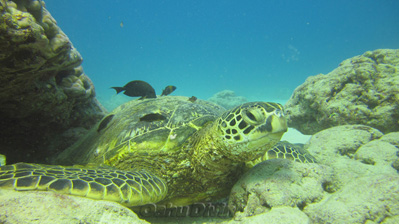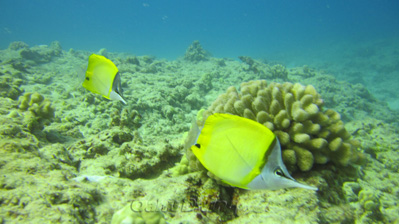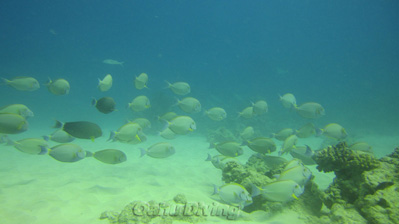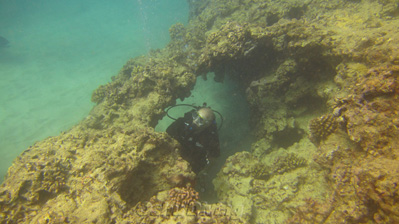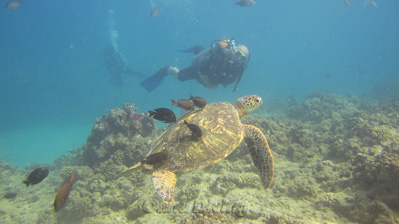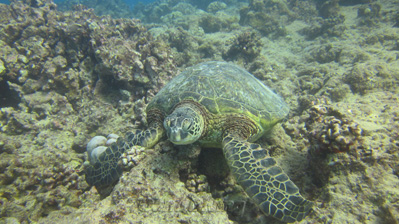 ---
Scuba Diving Courses in Hawaii