Scuba Diving in Oahu - Koko Craters Reef
Scuba Diving Locations in Hawaii

Just outside of Hawaii kai Boat Marina located in Hawaii-Kai's upscale neighborhoods is a interesting dive point called Koko Craters. The boat ride takes a short 10 minutes or less and the view is extremely rewarding from the boat. Views of Oahu's south side and Koko Head mountain are unforgettable. Resembling what Hawaii truly is, a volcanic paradise. To the west you will see the "other" side of Diamond Head however it does not have that classic look you are so accustomed to see in travel brochures etc. Koko Craters dive spot is approximately 35-40 feet in depth and has 2 main craters with semi circular craters near by. Having a divemaster/instructor is a must here for easy navigation. Most of the time the conditions here are very well, good visibility with light currents however when south westerly or easterly swells roll in you can be assured this shallow point will be affected. So lets talk about the good days here.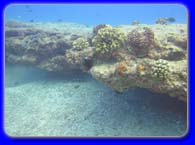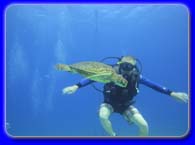 First of all Koko Craters, which is named after Koko Head mountain to the east, enjoys a very high amount of divers. Nearby dive companies use this spot on a daily basis. Since this dive usually is very tame taking first time divers here is ideal. Dropping down into the crater you will first notice almost no coral at all. Note that this diving point is not known for corals, it's all about the turtles here. A closer look into the crater you will find an abundance of fish and other sea life. Due to the number of divers that feed fish, this area does have a ton of fish hanging around. The alien like striped belly puffer is always near by ready to eat your crackers ( these types of puffers do bite, don't even try to catch one). As you swim around the crater check underneath the "lip" for sleeping turtles. This Oahu dive point has turtles which is why it is so regularly dived. Bottom times are usually 45 minutes and you will always come back with extra air which is a good thing. Please watch your air and make your return to the boat area when reaching 1000 P.S.I.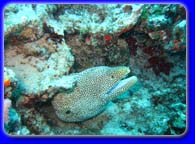 Things to be cautious about on this dive point are a few. Of course there is plenty of eels. Keep those fingers away from the small cracks and holes around the craters. Also DO NOT MAKE ANY ACCENT AWAY FROM YOUR DIVE BOAT. Parasail boats fly all around this area with little to no regard of dive boats. Popping up away from your dive boat will put you in immediate danger not to mention the not so forgiving swim against wind and surface waves back to the boat. Once out of the craters the bottom composition is nothing more than a flat desert like sandy area similar to Saudi Arabia.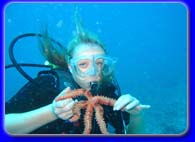 A few divemasters/instructors can navigate from crater to crater by using a few small coral heads as land marks and a very small trench that leads you from crater 1 to crater 2. I'm 100% positive you will get lost if you venture by yourself so stick with the divemaster/instructor. In the end this dive spot is pretty cool. Do it once, then take your friend/s who never been diving there for a chance of a lifetime swim with the turtles. You will get great bottom times here with no problem. Just remember to be a good diver boys and girls ! Check your air , no hands in small holes and no accents away from the boat.
Thanks for visiting Oahu Diving of Hawaii. Hawaii scuba diving locations Corner Pockets reef, beginner scuba diving specialists, diving boat charters and scuba courses in Honolulu, Hawaii.
Here are other reef dives in Hawaii!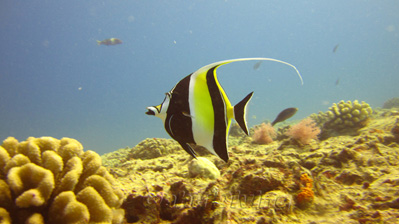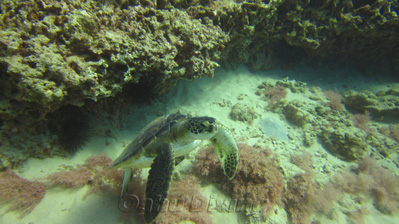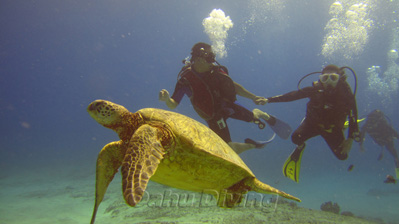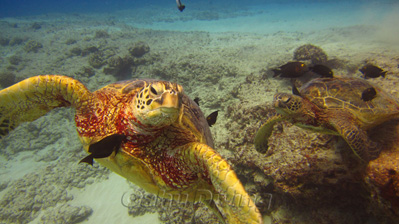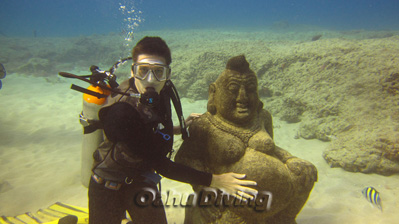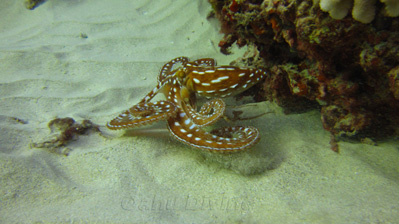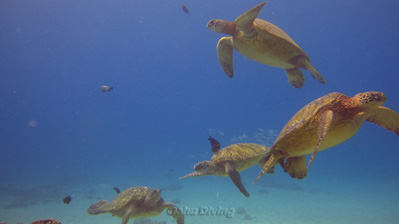 ---
Scuba Diving Courses in Hawaii