Scuba Diving in Oahu - Horseshoe Reef
Scuba Diving Locations in Hawaii

Horseshoe Reef of Oahu is a great Hawaii scuba dive - Oahu Diving does this tour weekly.
Horseshoe reef is a great for diving off of Oahu's south shore location. Scuba diving adventures with Oahu Diving- Oahu scuba diving specialists.
Horseshoe reef is pretty much a Hawaii scuba diving location that is a boat scuba dive in Oahu. Located not so far away, a quarter of a mile out from Kewalo boat basin- which is located across from the Ward Movie Complex near Honolulu. Access to this reef can also be done from the beach area however this may come as not so fun adventure if there is a lot of boat traffic around.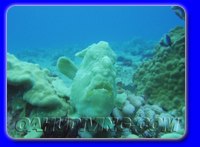 I think it is best to just suck it up and use a boat. Traffic out here is a mess with parasail boats and fishing boats cruising all around; not paying to much attention to what is in from of them or other scuba dive boats for that matter. Horseshoe reef dive is 45 feet to about 65 feet in depth. A very nice, semi-beginner dive but novice divers will find this reef very entertaining. The shape of the reef is - well you guessed it, a horseshoe.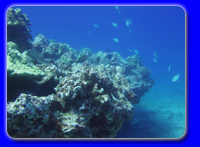 The main mooring line will take you to the center of the "horseshoe" on the west inner-side. Once down you pretty much can follow the contour of the "horseshoe" reef and sooner-or-later will arrive at the same location. Feel free to get off the beaten path and check out all the neat stuff around. There are a few smaller reefs at around 55 to 60 foot that are worth stopping at. You can usually see these reefs from the edge of Horseshoe reef. Underwater photographers will really enjoy this site, frog fish are always around waiting to suck in prey at the speed of light so it seems.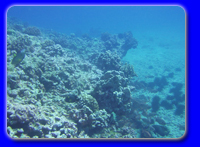 Occasionally you can get some great pictures of dragon moray eel hanging out. With those razor sharp teeth, don't even think about catching one to get that $1000.00 price for it. I'm sure you're medical bills will be a lot more. I have personal seen a lot of big fish here including the dreadful tiger shark. Recently I had a great if not the best manta ray encounter ever. Check it out, a 15 foot wingspan manta came right up to me and my customers. Well , guess who forgot the camera ? You got it. I left the camera in the dive van.
On special occasions you will meet the Hawaiian sting ray, those guys are huge I must confess. They sort of resemble a magic carpet , jump on and let the sting ray take you away- forget your bills, the dog and your loved ones. Other times you will find turtles sleeping under the coral/lava rock ledges. For the last year a unique hawksbill turtle has taken refuge here and actually swims right up to divers. But of course by me saying this you won't find him. I honestly wonder if he knows who I am because he actually swims over to me, not for food- I don't have any to begin with but I guess just a good old shell rub. Although no one feeds this turtle he continually enjoys the company of divers.
***Air monitoring is a must on this dive***
On this reef you don't want to just pop up to see where the boat is. With those parasail boats zipping around watching the cute girls they will never see you on the surface. So you California divers make your return underwater NOT ON THE SURFACE. Make your return to the boat 1000 P.S.I. and you will make it back in one piece every time. Don't be an idiot and return at 500 P.S.I., you won't make it. I have noticed certain scuba dive companies and their divemasters seldom brief divers on the dangers of making an assent away from the boat so DON'T DO IT ! All in all horseshoe reef is very fun. As always be on top of your game, this dive in particular will give you a long bottom time so as long as you are properly weighted and relaxed.
Thanks for visiting Oahu Diving of Hawaii. Hawaii scuba diving locations Horseshoe reef, beginner scuba diving specialists, diving boat charters and scuba courses in Honolulu, Hawaii.