Drift Diving in Oahu,50-75ft.
Drift Diving Hawaii
Fantasy Reef Drift Dive

Cool best describes this dive. Fantasy Reef is both great for novice scuba divers and seasoned scuba divers alike. When the currents are strong in Hawaii say after a full moon this is the dive you wanna do. Drift diving in Hawaii does not require an advanced certification. What is required is that you are a good diver, can remain relaxed and understand your diving equipment. This would not be a dive for say first time scuba divers, divers with ear troubles and lastly scuba divers with that are not so proficient in buoyancy control. What we usually do is start our dive on the upstream mooring line of the reef. Fantasy Reef has two mooring lines both on opposite ends. Using the decent line we will work ourselves down to around 40 feet which is the top shelf of the reef. After we are all down, still holding onto the line lets go! Fantasy Reef is a great reef, with lots of unique little canyons and plenty of coral which are in great shape. A few little swim threw are also present making Fantasy Reef a real fantasy of a dive. You will also notice that the Hawaiian green sea turtle also likes Fantasy Reef making its home here. On any given day divers can usually find around 5 turtles on this reef. White tip reef sharks also make their home here preferring to rest during the day on Fantasy Reefs lava ledges and small caves.
As we move on, drifting over and around the many cliffs and large rock formations we will glide over the reefs. The only thing I dislike about drift dives are the fact that when drifting it is hard to stop to get a god picture. The bonus part about drifting is the ease at which it makes diving- hardly any kicking and no movement. My kind of scuba diving here in Hawaii.
Thanks for visiting Oahu Diving of Hawaii. Hawaii dive locations, Fantasy Reef, diving boat charters and PADI Scuba courses in Honolulu, Hawaii.
Thanks for visiting Oahu Diving of Hawaii. Your beginner scuba diving specialists, diving boat charters and scuba courses in Honolulu, Hawaii.
Advanced dives in Hawaii !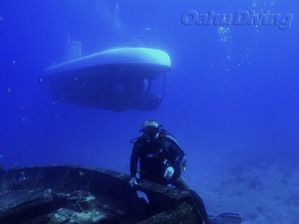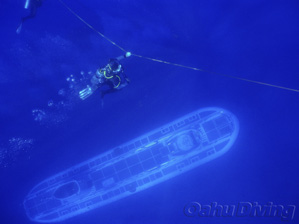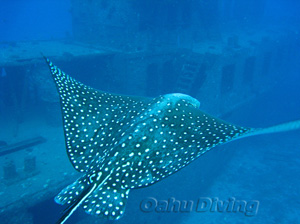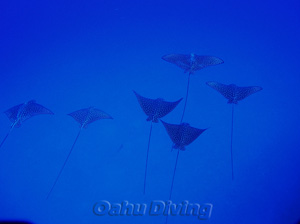 ---
Scuba Diving Courses in Hawaii